Boone and Crockett Club Foundation Charitable Gift Annuity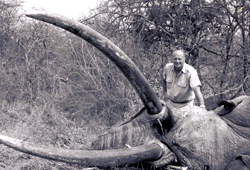 Jack Parker: I gave a donation to the Boone and Crockett Club Foundation in exchange for a charitable gift annuity because I, along with others, appreciate the need for current financial support to keep the activities of the Boone and Crockett Club on a firm basis — and this is a great way to do it. B&C was destined to receive my contribution at some future date, but through this program it can go to work now and eventually help grow the endowment.

Our Club has various sources of income. We have good years and bad. We have an appetite for doing more than we can afford because the need is there. A proper endowment fund can help take off the rough edges in hard times and, if properly set up and used, can be a major factor in stabilizing operations. This is a major requirement. We are a small group and will never have the financial clout that many of our associates have. This makes it paramount that we work together always.

We may be small in number, but we can exert important influence on things we wish to achieve. I feel privileged to be part of this organization and I hope all of you do as well. Let's be sure we make it work.

- Jack S. Parker
2007 recipient of the Boone and Crockett Club's highest award, the Sagamore Hill Award, and past president of the Wildlife Management Institute and the Boone and Crockett Club.