Charitable Remainder Unitrust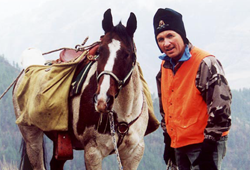 "As an organization, the Boone and Crockett Club's very uniqueness is what has made it so successful and has enabled it to flourish for more than a hundred years. The dedicated and personal involvement of the members in doing the work of the Club, coupled with a deep commitment to the conservation of our wildlife and a strong leadership vision, are the core values which have empowered the Club to become the principal champion of the perpetuation of our Wildlife Cultural Heritage. This essential uniqueness ensures that the Club will outlive us all and continue to preserve our Wildlife Cultural Heritage. That is the reason why Kathy and I have chosen to designate the Boone and Crockett Club Foundation our primary charitable beneficiary."

Ken and Kathy Davis have designated the Boone and Crockett Club Foundation as the charitable remainder beneficiary of their Charitable Remainder Unitrust.

--Ken Davis B&C Regular Member Since 1999

Benefits of a Charitable Remainder Unitrust Gift
Income for life, lives, or term of years
Avoid capital gains on the sale of your appreciated assets
Charitable income tax deduction for remainder portion of your gift
Future legacy gift to our organization
Charitable Remainder Unitrust for Income

A charitable remainder unitrust pays you income that reflects trust investments. There is the potential that your income could increase over time with growth in the trust.

How to Select the Right Trust Payout for You

There are several payout options to meet your needs:
The standard unitrust pays out a percentage of the trust assets each year
Another payout option used commonly for real estate permits the trust to sell the property tax free and then begin paying you income after the property has been sold
Since your unitrust benefits may be different, you may want to click here to view a color example of your benefits.